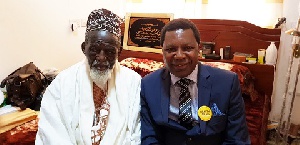 Thu, 12 Jul 2018 Source: NHIA Corporate Affairs
The National Chief Imam, His Eminence Sheikh Usman Nuhu Sharubutu has lauded the proposal to seek additional funding for the National Health Insurance Scheme (NHIS) as "many Ghanaians largely depend on the NHIS for their health care, and therefore its sustenance is key in promoting national development."
The revered Imam made these pronouncements when management of the NHIA led by its CEO, Dr. Samuel Annor paid a courtesy call on him at his residence in Fadama.

The visit was among others, to seek for the support and input of His Eminence on the request by various stakeholders for government to reconsider the financial model of the scheme.

The Chief Imam praised the current management of the Authority on the prompt payment of claims to service providers and called on them to ensure that members are given the best health care when they visit their facilities.

On his part, the CEO of the NHIA, Dr. Annor, assured the Chief Imam and his elders of measures the Board and management are putting in place to arrest the seepage of scarce NHIS funds.

He said, "The Board has directed that our Management engages the right procedures to roll out the electronic claims system which seeks to reduce the time for claims processing and fraud in the scheme."
He added, "We are currently piloting an innovation where our members will no longer have to travel and wait for hours to renew their membership but instead, use mobile phones through a shortcode from the comfort of their homes."

Since the beginning of this year, management of the NHIA has deliberated with various stakeholders, including civil society organizations, media practitioners, TUC and Organized Labour, representatives of associations in the health sector, Chiefs and the general public on its reforms.

The proposals made to government included among others, increase in the NHIL component of the VAT from 2.5% to 3.5%, levy on sugar, alcohol, tobacco to fund the scheme and an allocation of some of the oil revenue into the Health Fund to enable it become financially stable for its efficient operations.

Present to receive the team from NHIA was the Spokesperson Sheikh Arimiyao Shiabu, President of the Zongo Chiefs, Abdul Kadir Tahir, Chief of Fadama, Alhaji Abass, and the P.R.O of the Chief Imam Abdul Salem Latin.
Source: NHIA Corporate Affairs