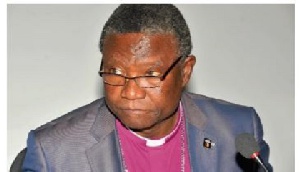 The Chairman of the National Peace Council (NPC), Most Rev Prof Emmanuel Asante, has backed calls for the country to re-evaluate the conduct of by-elections in the country.
He believes a modification of the current system will help in dealing with "political thuggery" and the disturbances associated with by-polls as witnessed in the recently-held Ayawaso West Wuogon by-election.

The cleric explained that during by-elections, the political party in power would not want to lose and, so, would do whatever it takes to win. The opposition will also do everything possible to win to prove that the government is unpopular.

The parties "are able to marshal all the people into one place and this concentration can always lead to the problem [of violence]".

He, therefore, admonished in an interview with Benjamin Akakpo on Class91.3FM's Executive Breakfast Show on Thursday, 28 February 2019 that: "I think we have to look at the by-elections again".

"I think it is important for parliament to sit and consider these by-elections. Some people have said that once a particular person has not ended his term of office and his term is to be continued, then allow the party that had the seat to go ahead and appoint, elect somebody," he noted.

Asked by the host if he subscribes to that suggestion, he answered in the affirmative.
"I would if that is going to bring us peace," he stressed.

He said such a review of the current arrangement will save the country the cost in running a by-election, and also forestall violence.

He said over the years, the chaos witnessed during by-elections are not experienced during general elections because there is no concentration of thugs on a particular location.

"You will need the people and you are not going to get the masses to be able to do that" and bus large crowds to one place to cause mayhem.