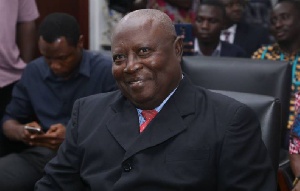 Sammy Gyamfi, one of the Communicators of the main opposition National Democratic Congress (NDC), has said Martin Amidu is not fit to be Ghana's Special Prosecutor.
According to him, Mr Amidu is "lawless, indiscipline, a liar and a bitter person" who will use the office of Special Prosecutor to settle personal scores.

On Thursday, 11 January 2018, President Nana Addo Dankwa Akufo-Addo named Mr Amidu, a former Minister of Justice and Attorney General under the John Mills administration as the Special Prosecutor.

The Attorney General, Gloria Akuffo, nominated Mr Amidu and his nomination was accepted by Nana Akufo-Addo.

Mr Amidu will carry out the extraordinary responsibility of independently fighting corruption.

He will have the full authority to initiate investigations into all suspected corruption-related offences of all persons in public service.

But speaking on Adom TV's Badwem on Friday, 12 January 2018, Mr Gyamfi said: "I can give you reasons why I think Martin Amidu is not fit for that office. The first is he is an indiscipline personality and does not have regards for his bosses or people above him.
"He is also lawless. He is on record to have attempted to physically assault the then sitting president John Evans Atta Mills over an issue, for which he later apologised. He is a very erratic person, how can you appoint somebody who can't control his own emotions to occupy such an important position like the Special Prosecutor.

"The second reason is that Martin Amidu is a bitter man and this appointment is the exploitation of the bitterness of Martin Amidu against the NDC by President Akufo-Addo.

"The third reason why he is not fit is that Martin Amidu is not credible and not truthful. He lied in the Supreme Court against Former President John Mahama in an affidavit. He also lied against Anas Aremeyaw Anas that Anas' exposé on the Judiciary was sanctioned by Former President Mills as a way of embarrassing the judiciary."