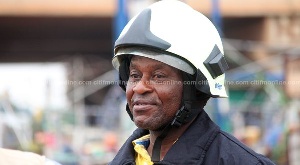 The Ghana National Fire Service (GNFS) has indicated the frequent fire outbreaks in the country is as a result of high indiscipline in the handling of fire and other flammable materials.
Upper East Regional Assistant Chief Fire Officer, Mr Douglas Koyiri who made the comment said although there were other causes of fire outbreaks such as electrical faults and natural disasters among others as well as disregard for fire safety measures by fire users, were major issues that needed to be looked into.

In an interview with the Ghana News Agency (GNA) in Bolgatanga, the Assistant Chief Fire Officer who is also the Bolgatanga Fire Service Commander indicated that most of the fire accidents were largely due to wrong use of fire and deliberate attempts in disobeying fire rules and regulations.

"Some of the fire cases are mostly caused by negligence on the part of those who use it." Mr Koyiri said and added that "People mostly use fire the way it should not be used or handled, they do not respect the laws put in place to guide the use and management of fire in various places."

He disclosed that most of the fire cases were recorded in the markets and attributed the causes to the burning of rubbish in the market as well as cooking.

Mr Koyiri added, "It is against fire service regulations to cook and burn rubbishes in the market place, but people still defy these directives and do whatever they want. So the indiscipline is very high and we need to check it."
He noted that his outfit operated on three principles, including education, engineering and enforcement to combat fire cases in the region and therefore called for attitudinal change among members of the public and adherence to fire regulations and sensitisation measures to reduce fire outbreaks.

While the Region's GNFS was under staffed due to the number of fire service sub-stations commissioned in some districts in the region, the Regional Commander urged the media to complement its efforts to educate the public on the dangers associated with the misuse of fire.

He advised members of the public, especially store owners to install fire protective equipment particularly fire extinguishers to help them tackle incidents of fire outbreaks and tasked the various Districts and Municipal Assemblies to enforce by-laws to assist in the fight to minimise fire cases in the region.

Mr Koyiri further advocated the enactment and amendment of laws to enable the GNFS to prosecute people who disregard fire regulations to serve as deterrent to others and said the laws should make room for quick judgments.