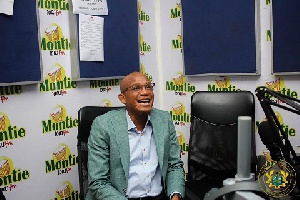 Government has reiterated its commitment to working with every media house in the country regardless their political affiliation.
According to the Minister of Information Mustapha Abdul-Hamid, the audience of media houses especially radio stations are Ghanaians and are not perceived either for or anti-government underscoring the need for them to benefit from policies and programmes of government.

Speaking to Management of Accra-based Montie Fm during a working visit, the Information Minister said Ghanaians must have equal right to access government information regardless of their media house they are affiliated with.

Mustapha Abdul-Hamid who led a government delegation comprising officials of the Information Ministry including all his Deputies and the Chief Director of the Ministry to the Network Broadcasting Group made up of Radio Gold, Montie fm, TV Gold and a host of other media outlets said to be very critical and somewhat "antagonistic" to the government because of its strong association with the opposition NDC, admonished them against twisting facts and putting mischievous slants on such information for the purpose of making the government unpopular.
While charging them to stick to the ethics of the journalism profession which is underpinned on balanced and truthful reportage, he also assured the managers of the Network Broadcasting Group that government doors are opened to them and that, they should feel to contact any government Ministry or Agency for information that they need.

Mr. B.B Menson, who spoke on behalf of his outfit, commended the Minister for this novelty and promised to cooperate with the government in areas of cooperation whilst playing their watchdog role as appropriately as possible for love of country.