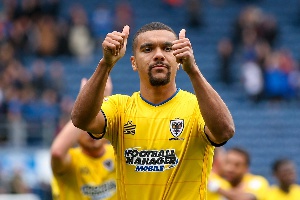 Wimbledon forward Kwesi Appiah stepped up his recovery from a scary-looking knee injury by running returning to the pitch and doing light ball work.
The 25-year-old was enjoying some sort of renaissance before his knee blew again in a championship game in August.

But his head coach Neil Cox has revealed that the Ghanaian has been training for the last week and is in line for a quicker than expected return.
""We will know a lot more about Kwesi next week. Kwesi has had a hard week of training this week," he said.

"So let's see how he gets on. He is really positive and he has been really good around the place. Credit to Kwesi because he was disappointed to be injured, but he has been in the dressing room at half-time encouraging people and that's what our club is all about. We are all in it together and it is not about the individual."