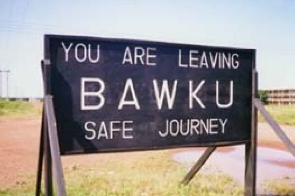 Security analyst, Adib Saani has warned of a possible escalation in the ongoing conflict in Bawku following the installation of a new Bawku Naba.
According to him, the installation among other things heightens the possibility of protest violence in the area hence the need for government to take proactive steps in preventing same.

"The possibility of "protest" violence in Bawku over the enskinment of Alhaji Seidu Abagre, a retired educationist as the Bawku Naba by the Nayiri in Nalerigu is high.

"I must warn, there is likely to be an escalation in hostilities between the two feuding factions if appropriate steps are not taken to de-escalate," the security analyst wrote in a Facebook post.

"There is a danger of reprisals and counter reprisals as a result of the enskinment and urgent actions must be taken to diffuse tensions. Government must beef up security and adopt measures aimed at progressively engaging both parties to achieve sustainable peace in the area. One thing is for sure, we can never secure Ghana without Bawku," he added.

Government on Wednesday, February 15, 2023, issued a statement rejecting the installation of a new Chief of Bawku by the King of Mamprugu Traditional Area, Naa Bohugu Mahami Sherigah II.
The government in the statement signed by the Minister of Information, Kojo Oppong Nkrumah said Naba Asigri Abugrago Azoka II remains the Bawku Naba.

It added that the security apparatus in Bawku have been instructed to arrest anybody who holds himself as Bawku Naba other than Naba Abugrago Azoka II.

"The Government condemns developments in Nalerigu, today, February 15, 2023, concerning the purported enskinment of a new Bawku Naba as illegal and a threat to National Security.

"Government further re-iterates that Naba Asigri Abugrago Azoka II is the Bawku Naba, duly gazetted and a member of the National and Upper East Regional Houses of Chiefs.

"The Security agencies have therefore been directed to arrest and prosecute any other person who holds himself out as a Bawku Naba. Further, any developments that have the potential to undermine the peace of Bawku will also be dealt with swiftly and in accordance with the law," the statement issued by the government read.
The King of the Mamprugu Traditional Area, Naa Bohugu Mahami Abdulai Sherigah II, enskinned a new chief for Bawku in the early hours of Wednesday, February 15, 2023.

The new chief, who was enskinned at the Nayiri palace in Nalerigu, is called Alhaji Seidu Abagre, GhanaWeb can confirm.

Jubilations were seen all over the forecourt of the Nayiri palace in Nalerigu, the North East Regional capital, as well as the traditional city of Mamprugu.

Meanwhile, soldiers were at Nayiri's Palace to ensure that there is peace and security while the residents jubilated.

The new chief enskinned, Alhaji Seidu Abagre is expected to be accompanied by some elders from the Nayiri Palace to Bawku after they perform all the traditional activities in Nalerigu.
There has been heightened tension in Bawku as a result of renewed sporadic gunshots in the outskirts of the Bawku township.

At least 6 people, according to a Joy News report, were killed, and 10 injured in fresh shootings in Bawku on Wednesday, February 8, 2022.

Watch the latest episode of The Lowdown below:






GA/SARA