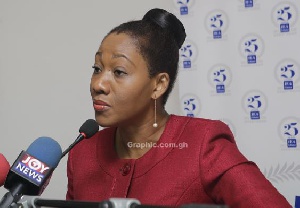 The opposition National Democratic Congress (NDC) is to "wage a relentless war on the Electoral Commission chairperson [Jean Mensa]," leaked audio confirms.
"As for the EC chair, we must wage a relentless war on this EC chair. Me she doesn't want to see my face," a voice believed to be that of the party's national chairman Ofosu-Ampofo is heard on the leaked tape saying.

Addressing his audience at a strategic communications meeting after the Ayawaso West Wuogon violence, Ofosu-Ampofo gave the green light to communicators to shower invectives on the National Peace Council chairman Professor Emmanuel Asante.

"For the first time, I will endorse insulting the National Peace Council Chair," he said to cheers from the NDC Communicators.

"The party will come out with a number of policy initiatives. Security and Intelligence Unit in the party will be formed and we will appoint National Coordinator, Regional, District and Constituency officers to lead these Units as we zoom along into 2020," the national chairman assured.

Ofosu-Ampofo wants the communicators to also target the president Nana Akufo-Addo when it comes to the Ayawaso incident since he is the commander-in-chief of the Armed Forces.

"We must focus the communication on the President. We need to forcefully push them," he said.


According to him the party will marshal all material resources to resource their own security forces to be able to fight but urged them not to attack face-to-face but said they "must be tactical and make life unbearable" for the President, EC Chairperson and the National Peace Council boss.

Ofosu-Ampofo told the party Communicators that he has not regretted taking such a decision to withdraw from the Ayawaso by-election, describing it as "strategic" move.

Although majority of NDC supporters were unhappy about his decision to unilaterally order for the withdrawal of the party's agents from the polling stations and coalition center's, Ofosu-Ampofo claimed he had no option to take such "tactical" decision looking at the level of casualties being recorded in the heat of the clash.

The NDC Chairman was heard bragging that he did not take the decision out of fear but that as a party chairman, he has the responsibility to protect people he deployed at the polling stations hence his decision to withdraw them.

"We were not afraid of the elections," he said.
According to him he has no control over the security forces present at the elections but has "control over people I have deployed as party people."

He claimed the party weighed the options of seeing their people killed to win the primaries and came to the conclusion that it would be better to allow the votes to go than to leave their people to die.

"Me myself I was not safe so when we got the opportunity, we decided to take tactical steps that will help us all, so we had to withdraw," he added.