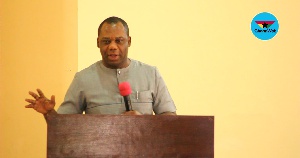 The Minister of Education, Dr Mathew Opoku Prempeh, has indicated that government will soon launch an insurance package for all teachers in the country.
According to him, the package jointly put together by the Ghana Education Service (GES), SIC Life and the Ministry of Education has been signed by all the parties, waiting for the launch.

Dr Opoku Prempeh indicated that this initiative forms part of the teacher incentives the government promised teachers in the country.

He told Kwame Sefa Kayi on the Kokrokoo programme on Monday, 26 February 2018, that education without teachers will amount to nothing hence the need to put the teacher first.
"Teachers are going through a lot of difficulties in line with their work and this is a situation the government has recognised," he said.

"SIC life, government and teacher unions sat down to think of how the government can support teachers and we came out with the insurance package.

"The document is ready, the government has signed its portion, GES and SIC have all signed their portion, the four teacher unions, TEWU, NEGART, CCT and GNAT all witnessed the signing ceremony. This is part of the teacher incentives we talked about," he stated.