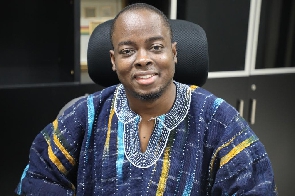 Executive Secretary of the Public Utility Regulatory Commission (PURC), Dr. Ishmael Ackah, has called on all concerned Ghanaians and stakeholders to intensify the fight against illegal mining, commonly known as galamsey, for the sake of national and socio-economic development.
Speaking at a tariff education programme for tertiary students at Ho Technical University in the Volta Region, Dr. Ackah emphasized the importance of protecting the country's water bodies for sustainable growth and development.

He highlighted how illegal mining activities contribute to the high costs of water treatment, production, and transmission, negatively impacting utility companies and leading to higher costs for consumers.

Dr. Ackah explained that illegal mining has forced utility providers like the Ghana Water Company Limited (GWCL) to use more expensive chemicals to treat water from polluted sources for distribution to consumers.

He noted that galamsey has made the cost of treating water significantly more expensive, with consumers bearing the burden.
He called on all Ghanaians and stakeholders to join the fight against galamsey and its destructive effects.

The tariff education programme at Ho Technical University was part of the PURC's efforts to engage with tertiary students across the country and educate them about the Commission's work.

Students from various institutions, including the University of Health and Allied Sciences (UHAS) and the Evangelical Presbyterian University College (EPUC), attended the forum.

Students who participated in the programme expressed appreciation for the information provided by the PURC, particularly regarding the Tariff Reckoner and Estimator Apps, which help consumers understand electricity consumption by electrical appliances and estimate their monthly costs.