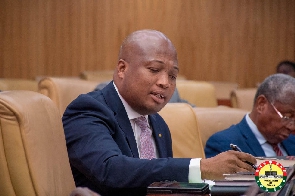 Samuel Bryan Buabeng, a presidential staffer has accused Member of Parliament for North Tongu, Samuel Okudzeto Ablakwa of intolerance.
The Jubilee House empolyee claims the MP opted to block him on social media platform, Twitter, because he had exposed the lawmaker's 'sanctimonious behaviour.'

"I just realized Son of man Samuel Okudzeto Ablakwa has blocked me after exposing his sanctimonious behavior. Wow! Intolerance personified!" he tweeted on February 17.

GhanaWeb checks show that the block must have been activated after he reacted to an earlier tweet by Ablakwa, in which the MP commented on allegations of tax evasion against his person by a group that had petitioned the revenue authorities.

Ablakwa said the petition was baseless describing it as a case of corruption fighting back, but Buabeng quoted the tweet and said: "Corruption is NOT fighting you because you are the perfect definition of corruption. This your priggish attitude won't take you anywhere.

"Were you NOT the same person blasting Martin Amidu's phone day and night over the payment of ISOFOTON's fraudulent judgment debt?"

Ablakwa has, however, denied the allegations of operating to unregistered companies and also owing taxes to the tune of over 90,000 Ghana cedis.
The MP has been active on the case of popular clergyman, Rev. Victor Kusi Boateng alias Kwabena Adu Gyamfi, a senior official of the National Cathedral of Ghana project.

Ablakwa has serially accused Kusi Boateng of having two distict personalities and using same for criminal purposes.


I just realized Son of man @S_OkudzetoAblak has blocked me after exposing his sanctimonious behavior. Wow! Intolerance personified! pic.twitter.com/6KnLLId3rS

— ???????????????????????? ???????????????????? ???????????????????????????? (@Sambryanbuabeng) February 17, 2023
Corruption is NOT fighting you because you are the perfect definition of corruption. This your priggish attitude won't take you anywhere. Were you NOT the same person blasting Martin Amidu's phone day and night over the payment of ISOFOTON's fraudulent judgment debt? https://t.co/njDj7UDvmX

— ???????????????????????? ???????????????????? ???????????????????????????? (@Sambryanbuabeng) February 17, 2023
SARA