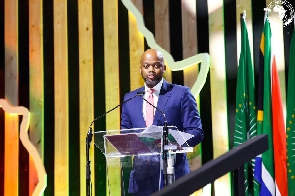 The private sector is known to be the engine of growth of every local economy and it is for this reason that governments and the African Continental Free Trade Area are trying their best to rope in the private sector to boost trade and the various economies at large.
According to the Secretary-General of the African Continental Free Trade Area, Wamkele Mene, intra-Africa trade and agricultural products are expected to increase by 574% by 2030 if the continent eliminates tariffs on agricultural produce.

Making this known at the ongoing AfCFTA Business Forum held in Capetown South Africa, he highlighted that the private sector accounts for 80% of total production and employs about 90% of the working-age population.

Mr Mene further said 67% of investment into the local economy comes from the private sector, therefore, the need for AfCFTA to partner with this critical sector to drive and boost trade on the continent.

"The private sector has to play a critical role for implementation of the AfCFTA. Africa's private sector is estimated to account for 80% of total production, 67% of the investment and employs 90% of the working-age population," he said.

"We intend to establish a platform for private sector to be one of the pillars of the implementation of the AfCFTA so that jointly, we can identify opportunities for investment that will increase intra-Africa trade.
Meanwhile, the AfCFTA is focusing on agriculture and agri-business, pharmaceuticals, automotive sector, transport and logistics, among other sectors.

Wamkele also urged the private sector to leverage on the vast opportunities to thrive under the African Continental Free Trade Area.

This, he said, will place the continent on a path of long-term industrial development.

The AfCFTA Secretary-General further said the automotive industry in Africa is expected to grow to more than 42 billion dollars by 2027 due to an increase in domestic demand, the rise of incomes, as well as high projections for growth in intra-Africa trade.

He added that AfCFTA also has the potential to increase intra-Africa trade on pharmaceuticals.
Watch the latest edition of BizTech and Biz Headlines below:







ESA/FNOQ