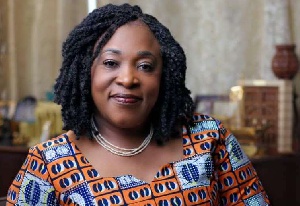 The government of Ghana has called for increased partnership and international relations with Russia.
Receiving a delegation from the Russian Embassy in Ghana at the Ministry of Foreign Affairs and Regional integration today, Friday, 11 October 2019, Foreign Affairs Minister, Shirley Ayorkor Botchwey, explained that although there is a long-standing cordial relation between the people of Ghana and their Russian counterparts, a need for increased partnership has arisen as a result of President Nana Akufo-Addo's drive to positively transform and boost the industrialisation agenda of Ghana under the broad policy of Ghana Beyond Aid.

"For this to happen, there are some steps that we need to take. In trade and investment, we want to see more Russian companies invest in Ghana because the government has the vision to industrialise our country and this is all part of the Ghana Beyond Aid agenda. We want to see Ghana stand on its own feet and not depend on aid from other countries", Ms Botchwey said at a joint media briefing ahead of a closed-door meeting with the Russians on the upcoming Russia-Africa Summit later in October this year.
For his part, the Russian Ambassador to Ghana, Dimitry Y. Suslov expressed delight about the engagements with the government of Ghana and assured Accra of the Russian government's willingness to partner with Ghana.

He said: "I am very glad to have a personal engagement with you and I am ready to discuss any questions that may arise in respect of our bilateral discussion".