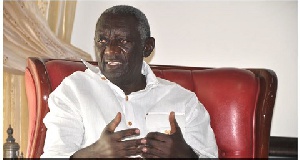 Former President Kufuor has called for investigations into salary slots allocated to some Chief Executives in the Country.
His call comes following the public announcement of the salary of the immediate past Chief Executive of Officer of COCOBOD, Dr Stephen Opuni and others.

In an interview with Nana Yaa Boamponsem Ameyaw on TOP 103.1 FM Morning Show 'GHANA TE SEN', the Former President stated that criticisms levelled against the state body's immediate past Chief Executive Officer, Dr Stephen Opuni, is unfair.

According to him, Ghanaians should be interested in whether the state benefited from Dr. Opuni as the Chief Executive of Officer of COCOBOD or not before they can question the rationale behind his salary allocation by the board.

"Corruption is high in the country because employers cheat employees in Ghana, so my point is that the fat salary given to someone should not be an issue, for now, let's investigate those issues to find out if the nation benefited from them or not. Then we can also find out if the salary was realistic or not, we should not jump to conclusions without proper investigations," Former President Kufuor stated.
In relation to this, Chairman of Ghana Cocoa Board (COCOBOD), Hackman Owusu-Agyemang, has said criticisms levelled against him following his public announcement of the salary of the state body's immediate past Chief Executive Officer, Dr Stephen Opuni, is unfair.

According to him, the salaries of Article 71 office holders, including that of the COCOBDO CEO, the president and all his ministers, Members of Parliament, and others are already in the public domain, therefore, it was not out of place for him to have publicly indicated how much Dr Opuni was earning as salary.

Mr Owusu-Agyemang had said the GHS75, 000 salary of Dr Opuni was "unthinkable" and the new board would review it.

"For me, it is absolutely unthinkable that the gross salary of the Chief Executive Officer should be in the neighbourhood of GHS70, 000 to GHS75, 000 a month, and the net is about GHS55, 000 to GHS57, 000 a month. If you even discount this by 50 percent, it would still be higher than anybody under Article 71 of the constitution," he told Accra-based Citi FM