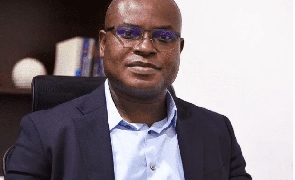 The Director of Communications of the governing New Patriotic Party (NPP), Richard Ahiagbah, has said the investigations being carried out by the Office of the Special Prosecutor must be given time to evolve to know who is at fault in the fight against illegal mining, otherwise known as galamsey.
He made these statements following the arrest of the former chairman of the Inter-Ministerial Committee on Illegal Mining (IMCIM), Professor Kwabena Frimpong-Boateng.

Speaking on Citi TV's Big Issue programme on Saturday, June 10, 2023, he said, "I think that the investigation of the OSP must be allowed time to evolve. And once that evolves, it will lead to the right places where concerns will bring to light the challenges the IMCIM faced, and who in the IMCIM was at fault. The law will work from there. Professor Frimpong-Boateng is the man in the arena, and starting with him will lead us to the rest involved. If you want to address the issue, you start from the head," he said.

He maintained that the purported arrest by the OSP is to clarify some allegations as reported by Prof Frimpong-Boateng.

"Or, based on the report he brought, they wanted clarity. If you read the so-called report of the former IMCIM Chairman, it is not a report in the traditional sense. It is more of a narrative, putting together things happening. So, if you are reading it, you need clarification. You need somebody to explain to you the connection of things. It is not logical how you lay out a report. I don't feel that he is being targeted," he added.

He went on to state that the fight against illegal mining should be tackled from a solution-oriented standpoint.
"This galamsey is existential and nobody can deny it. We must come to it from a non-political standpoint, from a solution-oriented, ideas standpoint. We must say that this has been tried and that has been tried. How about this? Can we try that? That for me will be a progressive conversation to have."

"Now there is an investigation going on, we are all interested. We must follow it duly and get to the point where we find the evidence that the OSP will come up with," he noted.

Background:

Former Minister of Science and Technology, Prof Kwabena Frimpong-Boateng, was arrested on May 16, 2023, for corruption-related offences when he led Ghana's fight against illegal small-scale mining (galamsey) as head of the Inter-Ministerial Committee on Illegal Mining (IMCIM).

He was arrested by the Office of the Special Prosecutor (OSP) when he honoured an invitation to appear before it in an ongoing investigation into corruption-related matters in the work of the IMCIM. He was released on a GH¢2 million bail.
Now, the OSP has also secured a warrant for the arrest of the former secretary to the Inter-Ministerial Committee on Illegal Mining, Charles Bissue.

Also, watch the latest episode of GhanaWeb Election Desk on GhanaWeb TV below:





Share your news stories and ideas with GhanaWeb


To advertise with GhanaWeb




NW/ESA