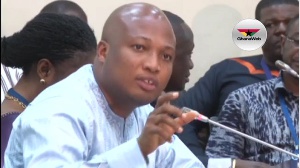 The Ranking Member on the Foreign Affairs committee in Ghana's Parliament, Samuel Okudzeto Ablakwa has advised the Akufo-Addo-led government to invite ex-President John Mahama to help in taking a final decision on the fate of the ex GITMO detainees in the country.
According to him, the ex leader, under whose watch the detainees were brought into the country needs to be involvement in this very sensitive issue which must not be toyed with, as America and the international media are watching what Ghana's move will be.

The Supreme Court on Thursday declared as unconstitutional the Government of Ghana agreement with the US government that saw two ex-GITMO detainees brought into the country.

The court has ordered the government to within the next three months send the agreement to parliament for ratification or in lieu of that decision return the two detainees to the US.

Margaret Bamful and Henry Nana Boakye last year sued the Attorney General and Minister of Justice as well as the Minister of Interior, accusing government of illegally bringing in the two former Gitmo detainees, without recourse to the laws of the land.

The two plaintiffs were therefore seeking a true and proper interpretation of Article 75 of the 1992 Constitution of Ghana. The applicants claim that the President of the Republic of Ghana acted unconstitutionally by agreeing to the transfer of Mahmud Umar Muhammad Bin Atef and Khalid Muhammad Salih Al-Dhuby to Ghana.
Two Guantanamo bay detainees, Atef and Al-Dhuby had been in detention for 14 years by the United States after being linked with the terrorist group Al-Qaeda.

Chief Justice, Justice Sophia Akuffo reading the judgment said the president of Ghana by agreeing to the transfer of the two Guantanamo bay detainees required ratification by parliament with a vote of more than half, hence pronounced as unconstitutional the said agreement.

Speaking to Kasapa News, Hon. Okudzeto Ablakwa who's also the Member of Parliament for North Tongu urged government to ensure that it does act in a manner which will make Ghana attract negative attention while dealing with the Gitmo 2 issue as the terrorists are watching.

"We should also make sure that the implementation of the orders of the Supreme Court does not affect the good relationship between Ghana and the United States of America, this is a super power you don't want to step on their toes unnecessarily and at all times we must make sure the national interest in this matter overrides all other considerations. The necessary consultation must be done in circumspection to avoid a diplomatic row between Ghana and the United States."