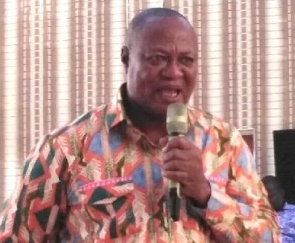 Samuel Pyne, the mayor of Kumasi was unable to hold his anger following persistent heckling from a former General Secretary of the People's National Convention during a panel discussion on Asempa FM.
Sam Pyne was making a case for the National Cathedral and criticizing Okudzeto Ablakwa's "campaign" against Reverend Kusi Boateng, a member of the Board of Trustees of the cathedral project.

He first sought to dismiss claims of double identity against Reverend Kusi Boateng, as alleged by Ablakwa, by using himself as an example.

"My baptism card has Samuel Kwabena Sakyi. My O' level certificate has Samuel Pyne. My A level has Samuel Cobbinah Pyne. They wrote the Kwabena like how Fantes does theirs. I never used my A-level for training college. I used my A-level," he said.

He then moved on to justify why it is appropriate for the government to build a cathedral for the country.

He rebuffed the notion that the cathedral is a promise of the president to his God and therefore should not be built with state funds.
"I support the Cathedral 300%. I have contributed to the project because I know God and what God has done for me. The NDC started desecrating that project from the first day. They've not seen anything good with it. They argue that the cathedral is the president's personal wish so he should fund it, why don't they say same about Free SHS", he said.

Atik Mohammed, the former PNC scribe, also a panelist then interjected: "the Free SHS is for the public so he can use the public money."

Sam Pyne fired back "is the cathedral for his father or when he is leaving office he will go with it.".

Despite repeated calls by the host of the show for Atik Mohammed to desist from heckling, Sam Pyne, Atik continued with Sam Pyne occasionally lamenting about how it was affecting his presentation.

Meanwhile, Samuel Okudzeto Ablakwa has said that the National Cathedral could cost the country $1billion.
He is concerned particularly by the amount of public funds dedicated to the project despite earlier government communication that it will be funded by the Christian community.

"My analysis is that this project is more than a billion dollars, it is more than a billion dollars by the time we are done paying for the recklessness of president Akufo-Addo," he said in an interview on Accra-based Radio Gold (January 18).