'It is a lie' – Old 'friend' of Kuami Eugene counters him over claims that he bought his first car at age 19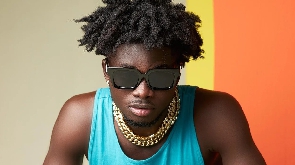 Lynx Entertainment signed musician, Kuami Eugene recently disclosed in an interview that he is one of the young acts in the Ghanaian music industry who bought cars at a very young age.
He mentioned that he bought his first car at the age of 19 after his single, "Angela" had become one of the most popular songs in Ghana.

Kuami Eugene indicated that he bought the car, which was an Elantra, for about Ghc45,000.

"At that time, it cost me GH¢45,000. It was a significant milestone for me as it was the first time I had ever held such a substantial amount of money," he stated in the said interview.

In the wake of the reactions to this revelation by Kuami Eugene, a gentleman on Twitter who goes by the name Henry Asiamah has come out to state that the "Cryptocurrency" hitmaker is lying.

According to Henry, he was a friend of Kuami Eugene at the time, and at the time, he was the one who used to drive him to a music studio in the Odorko area in Accra.
He also added a photo of himself, Kuami Eugene, and another guy to back his claims.

"No hate but it's a lie ,I use to drive him to studio in odorkor, don't really remember the studios name : he use to record us and we did great songs . He didn't have a car then and had just joined hitmaker. Showbiz age and boss talk . New friends after he blew up . Life continues"

See Henry's tweet below:


No hate but it's a lie ,I use to drive him to studio in odorkor, don't really remember the studios name : he use to record us and we did great songs . He didn't have a car then and had just joined hitmaker. Showbiz age and boss talk . New friends after he blew up . Life continues pic.twitter.com/daDbonrqCQ

— Henry Asiamah (@henryasiamah14) June 16, 2023