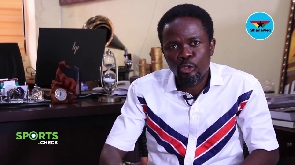 Ace broadcaster Kwame Sefa Kayi has tasked his colleague Dan Kwaku Yeboah to go beyond the 'heat and accusations' and speak to the parties involved in the 100,000-dollar scandal that has rocked the Ghana Football Association.
The media space has been awash with contrasting reports on the issue while the FA has adopted a silence stance on the topic, except for a short Press Release saying they have received $900k from Globacom as arbitration settlement.

On the Tuesday edition of Peace FM's Kokrokoo show, Sefa Kayi complained about the lack of clarity on the scandal and cautioned Ghanaians against passing judgment on the issue.

Despite attempts by Dan Kwaku Yeboah to divulge information which he claims comes from his sources at the FA, Sefa Kayi insisted that journalists must investigate the matter and find answers to the hanging questions.

He accused Dan Kwaku Yeboah of making comments that suggested Kofi Amoah is guilty of some allegations which have been levelled against him.

"Assuming a corporate organization like Glo decided to give 1million dollars in cash to someone, then someone must be arrested. Where did it come from and through which bank did they make the statement? There are a lot of questions and we all need to find answers to these questions. I'm not your editor but I'm telling you to speak to Kofi Amoah, Glo and the FA".

"I'm going to accuse you of something. You've made up your mind that Kofi Amoah is guilty and its wrong. It's poor journalism. I have given you a job just go and speak to the parties involved. If they talk to you, you have a story. If they don't then you come out with your own investigations".
Background

It can be recalled that in December 2008, Globacom Ghana secured a five-year deal to be the headline sponsor of the Ghana Premier League.

The contract was due to expire at the end of the 2013/ 2014 league season.

However, Glo failed to meet sponsorship obligations to the Ghana FA which led to the termination of the contract leaving telecom company with outstanding debts to the Ghana FA.

Following the arbitration and agreement, GLO made a first payment of $500,000 to the GFA in 2018 with an agreement to pay the subsequent $1m which was delivered last week.