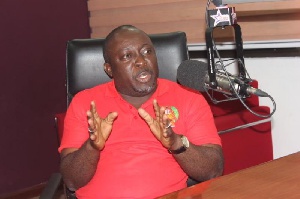 Former Member of Parliament for the Akwatia Constituency in the Eastern region has said Tribal insults are symptomatic of the New Patriotic Party.
His comments comes days after a deputy Agric Minister William Quaitoo had to resign after making some ethnocentric comments about Northerners in the country.

According to him, there have been several instances where NPP folks have made similar statements.

He, however did not rule out the possibility of the NDC having persons with similar attitudes but said the National Democratic Congress trains its people on being circumspect when speaking in public.
"I want example of when a member of the NDC made an offensive tribal comment. It has never happened. We should condemn what the deputy minister said rather than trying to justify it. The Npp has an unending history of making offensive tribal comments," he said on Agoo TV's Yensempa show to host Bonohene Baffour Awuah.

He stated that the reason why members of the NPP are known to make tribal statements is because a particular ethnic group has a dominating number of people in the party.

The former legislator said the NPP was not like the NDC which had a balanced percentage of its members coming from all the ethnic groups. This he said was a contributing factor that has led to the several offensive tribal comments by members of the NPP.