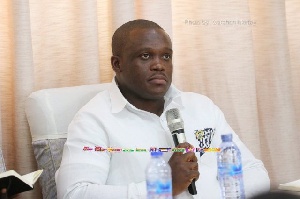 The Member of Parliament for Ningo Prampram, Mr Sam Nartey George, has said the claim by his assailant, a national security operative that he (Sam George) hurled unprintable ethnocentric insults at him, hence the assault on him on the day of the Ayawaso West Wuogon by-election, is "sickening" and untrue.
Giving his testimony on Thursday, 8 March 2019 before the Commission of Inquiry probing the violence that marred the by-election at La-Bawaleshie on 31 January 2019, a member of the National Security SWAT team, Mr Mohammed Sulemana said he assaulted Mr George because the lawmaker insulted him.

Mr Sulemana, however, said he did not know Mr George was a Member of Parliament at the time of the incident, adding that he would never have assaulted him if he knew.

After he was made aware by the Commission that Mr George is an MP, Mr Sulemana said Mr George's behaviour during the by-election did not portray him as a legislator.

However, Mr Sulemana said he regretted assaulting the MP.

"My Lord, I was guilty. I regret what I did. Whenever you err, what you need to say is 'I'm sorry and I will not do that again'", he said.

He continued: "When you offend somebody and ask for forgiveness and it comes from your heart then that person will forgive you".
He further asked the "people of Ghana to forgive me and I ask the Almighty Allah to also forgive me".

Reacting to Mr Sulemana's testimony, the Ningo Prampram lawmaker said in a Facebook post: "I am gobsmacked that the Commission would accept the lie that I insulted the hoodlum who attacked me".

"Where in the video that they have played repeatedly did anyone hear an insult? The claim that I uttered insults to him based on his tribe is sickening.

"Anyone who knows me would testify that even in my imperfection, I have NEVER shown or exhibited any ethnocentric proclivities. I see myself as a Ghanaian. Nowhere in the videos that have been widely circulated do you hear me reference any tribe in all my utterances.

"The truth can NEVER be suppressed".