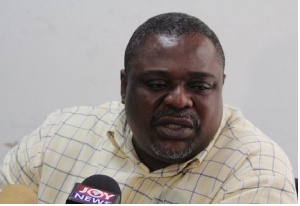 A former Communications Director at the presidency of late Professor John Evans Atta Mills, Koku Anyidoho, has said, his mentor, father and political godfather was not honoured with a befitting resting place by the erstwhile National Democratic Congress (NDC) government.
He was speaking to Kwame Tutu on Rainbow Radio 87.5Fm on a publication done by Daily Guide Newspaper that a family head has called for a thorough investigation into the death of the late Mills.

Koku Anyidoho declined to comment on the issue regarding the family's call for a fresh probe into the death of the late Mills, because he felt it was not within his purview to do so.

According to him, the Daily Guide every year publishes stories to divert attention from the annual anniversary lecture in honour of the late president with such stories and so I will not want to comment on it.
However, during the interview, the outspoken politician kept using the word it was unfortunate that after 5 years of the passing of Mills, the Asomdwee Park where he was laid, never saw completion. Koku Anyidoho said the final resting place of late Mills was to have other facilities including libraries, a resting place, an amusement park and other edifice.

He said, ''It is unfortunate that after 5 years, it is still the way it is. Because the master plan that Dr. Don Arthur who designed the Nkrumah Museum, and also designed the Memorial Park-and how it should have really been; by now it should have been completed with edifices like libraries, Museum, cafeteria, a resting place and all those things. It is unfortunate that it did not happen even under NDC.''

When asked what went wrong and whether the NDC failed to honour the late Mills or give him a befitting burial, he said, "you know I will never hide anything from you. I will say it just as it is and whatever you have alluded to, is the truth. But it is not everything I will be able to say in public so let's just end it here.''