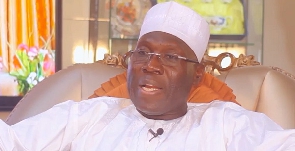 Former Member of Parliament(MP) for Tamale Central, Inusah Fuseini has said that it will be a terrible mistake for the former President and flagbeaerer of the NDC, John Dramani Mahama to be contested for the flagbearership slot of the party.
According to him the former President must be allowed to run unopposed as the party remains united solidly behind him for victory in 2024.

Speaking on Okay FM's 'Ade Akye Abia' programme, he explained that this is not the time for the NDC to be experimenting on who to lead the party because former President John Mahama has built a solid record as a President for the party.

"If you check the records of the former President, it remains unchallenged so any new person who will be elected as flagbearer will be campaigning on those achievements and records.
"Why don't we then as a party allow the former President go unopposed to enable him have enough time to campaign on his own record?" he quizzed.

"Ghana needs somebody like former President John Dramani Mahama who has led the country before and was able to manage the economy well to come back to put the country right back on track. The NPP government is gradually collapsing the economy and the only person who has the midas touch to turn things around is John Mahama," he added.

He said the former President stands the chance of winning the 2024 elections than any other person who the NDC will mistakenly elect as flagbearer of the party.