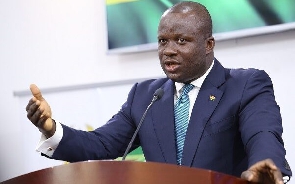 Sat, 29 Apr 2023 Source: GNA
The Minister of Lands and Natural Resources, Samuel Abu Jinapor, Thursday said President Nana Addo Dankwa Akufo-Addo has shown unflinching support towards the fight against illegal small-scale mining and had never interfered in any of the processes.
"The President will not countenance interference in the galamsey fight," he said, and that it would be scandalous for him to do that.

The Minister was responding to questions from journalists concerning a 37-page report compiled by Professor Kwabena Frimpong-Boateng, the former Chairman of the Inter-ministerial Committee on Illegal Mining (IMCIM), which he presented to the Chief of Staff on March 19, 2021.

Asked about his views on the work of his predecessors who led the fight against illegal mining, Abu Jinapor said it would be unfair on his part to pass judgement on their work.

"I've no moral right to pass judgement on my predecessors…the good people of Ghana are in a better position to judge and all stakeholders…I don't want to be drawn into this," he said.

The Minister said dealing with illegal mining, otherwise known as galamsey, was very complicated because it bothered on lives and livelihoods, therefore those allegedly involved in it would go to lengths to frustrate the efforts to clamp down on it.

He said he remained focused on clamping down on illegal mining and would not be distracted by the current public outcry over Prof. Frimpong-Boateng's report.
"Since I was appointed by the President in March 2021 to the Lands Ministry, I'm focused on the fight against illegal small-scale mining and I don't want to be distracted in any way."

Abu Jinapor promised to engage the media on Tuesday, May 2, 2023, to update the public on the state of the country's forests.

However, he said there were useful lessons to be drawn from all the brouhaha concerning the report and would take steps to help the nation make progress in restoring the degraded landscapes.

AbuJinapor denied any knowledge of involvement by Mr Kojo Oppong Nkrumah, the Information Minister, in galamsey and described him as a "descent gentleman who has been discharging his duties with candour".

A report by former Minister of Environment, Science, Technology and Innovation, Prof Kwabena Frimpong-Boateng, alleged that several officials of the New Patriotic Party-led government had been involved in illegal small-scale mining.

The 37-page report, prepared in 2021 and handed over to the Chief of Staff, has leaked into the public domain.
Prof Frimpong-Boateng who signed the report claimed that some NPP officials hired Chinese nationals to engage in galamsey on their behalf.

Despite the President's commitment to protecting the environment, some party officials were involved in illegal mining, he alleged.

"Throughout our struggle with illegalities in the small-scale mining sector, what baffled me was the total disregard of the President's commitment to protecting the environment," the report said.

"I can state without any equivocation that many party officials from the national to the unit committee level had their friends, PAs, agents, relatives, financiers or relatives engaged in illegal mining."

"Most of them engaged Chinese working for them. I am not referring to party people who had their legitimate concession and were mining sustainably as they were instructed to do. There are appointees in the Jubilee House that are doing or supporting illegal mining or interfering with the fight against the menace."
Source: GNA