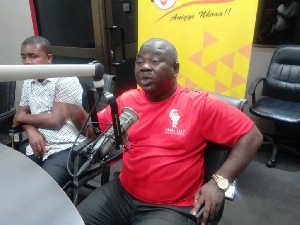 Techiman Eleven Wonders Chief Executive Officer, Albert Commey says it will be unfair to reduce the salaries of players due to the coronavirus outbreak.
There has been discussions for Ghanaian clubs to reduce the salaries of players as been done by clubs abroad due to the financial difficulties caused by the coronavirus outbreak.

Some players have had their contracts cancelled for failing to take a pay cut whilst some top clubs in Europe such as Juventus, Barcelona have accepted a pay cut.

Albert Commey shared his opinion on the ongoing conversation and disagreed with those calling Ghanaian players in the domestic leagues to take a pay cut.

"We don't have enough grounds to reduce the salary of players. There is a law here in Ghana that doesn't support a pay cut.

"If we haven't played football for five months then it's justifiable but to call for pay cut within a month isn't justifiable", he told Happy FM.
President and Bankroller of Berekum Chelsea, Obed Nana Kwame Nketiah also shared his view indicating his club has no plans on reducing the salaries of players.

"The salary of the players are meager and reducing them will be a problem. So we at Chelsea are not even considering it".

Both managers called on government to come to the aid of clubs during this difficult times.

The Ghana Premier League has been suspended indefinitely due to the outbreak.