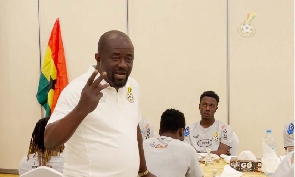 President of the Ghana FA Kurt Okraku has opened up on the rampant departure of players from the Ghanaian leagues.
The mass exodus of players in the domestic top-flight league has affected the standard of the Ghana Premier League and other leagues in the country.

Most players who turn out to perform well join other clubs on the continent or move to Europe for greener pastures.

Speaking to the media, the Ghana FA boss said it will take time to curb player exodus due to inadequate funds.
"If we are able to improve the economic health of our league, club owners will be able to get more resources to invest in their clubs and also invest in the players"

"And once this process continues and with more investment, I'm very sure that a lot more of the players would like to stay here a bit to continue to develop, it is a gradual process, which will take time but the FA has shown clear commitment toward improving the economic health of our GPL" he said.