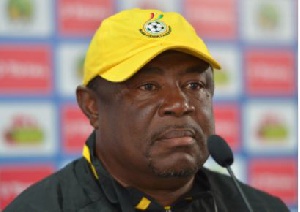 Former Asante Kotoko manager J.E Sarpong is unhappy with the club's decision to re-appoint Paa Kwesi Fabin as coach ahead of the new season.
The FA Cup champions fired Englishman Steve Polack last week following the team's elimination from the Caf Confederation Cup, naming Fabin, a former Kotoko coach.

Sarpong claims it's a risky decision, arguing that some players could plan mutiny against the new coach due to their allegiance to Polack and assistant coach Akakpo Patron.

"Let's see how he can propel the team to greater heights because some of the players still owe allegiance to Pollack [and may not be committed]," Sarpong told Starr FM.

"We should forget about the fact that he has coached the club before as well as their youth team. He will still have divided team because some of the players also owe allegiance to Akakpo Patron.
"Patron should have been given the job because when he was playing for Kotoko, where was Paa Kwesi Fabin?

"We are not doing anything right in this country, from waste management [Zoomlion] to drivers. Nothing is happening as planned for anybody in this country," he added.

Fabin will begin his new era with the Kumasi giants against Wafa next weekend on opening day of the 2017-18 Ghana Premier League season.