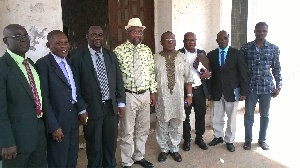 Mon, 20 Jul 2015 Source: Joseph Kobla Wemakor
The Former Chairman of the National Development Planning Commission(NDPC) and a Senior Finance Minister of state under the NPP's regime, Joseph Henry Mensah, has endorsed the National Development Planning Commission's concept of coming out with Ghana's long-term development plan, calling for its sustainability when formulated.
"It is the sustainability that has been lacking, we've had so many offs and ons; I think that is dangerous for any development country because things don't happen if it takes a longtime to happen and if we're into development planning, then things has to go on and be sustained that's when you can expect something significant", the venerable, senior former Minister has stressed.

He made the call on Thursday July 16, when a team from the National Development Planning Commission (NDPC) led by Dr. Nii Moi Thompson, the Director General, paid a courtesy call on him at his residence to brief him and seek his guidance on preparations for launching an exercise on 4th August 2015 in Accra for a long-term development plan for Ghana.

The Veteran Parliamentarian, astute politician gave his approval when he said "I don't think I'm in a position to detect to the Commission what should be done but I give you my blessings, hoping the long-term idea for the country will be sustained".

Dr. Thompson was accompanied by some Commissioners of the Commission, including Dr. Samuel Nii-Noi Ashong, former Deputy Finance Minister in the Kufuor administration and current chairman of the Commission's Economic Policy Committee,Mr. Kwame Boateng, Deputy Director of Spatial Planning, Isaac Asiamah, Special Assistant to the Director General, Dr Mensah Bonsu, Dir. Planning and Coordinator, Peter Owusu, Head of Finance.
Dr Thompson presented souvenir and a card to the former Chairman of the Commission to thank him for his support for the Commission and the entire nation over the years for his support and to wish him well in his retirement period.

The long-term national development plan, which is expected to span 40 years (2018-2057), will be flexible enough for any government to draw up its own medium-term plans towards achieving the vision and goals of the plan, which are based on the Constitution, in particular the Directive Principles of State Policy.

Earlier, the team toured the Party Headquarters of CPP, PNC and GCPP where they interacted with their various leaderships as part of NDPC's consultations to engage political parties on the 40 years policy implementation draft.

They have all lauded the Commissions initiative,pledging to support it to the concluding end due to it's flexibility and the inclusiveness of governance from all political divides.
Source: Joseph Kobla Wemakor