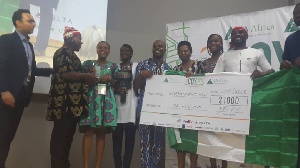 Tue, 11 Dec 2018 Source: JA Africa
JA (Junior Achievement) Africa, in collaboration with JA Ghana, held its 8th Annual Company of the Year (COY) Competition for high school entrepreneurs in Accra, Ghana. The last time Ghana hosted the event was in 2011.
This year's competition, which ran from 5th - 7th December 2018 brought together 50 young people aged 14 – 18 from Burkina Faso, Botswana, Ghana, Kenya, Mauritius, Nigeria, South Africa, Swaziland, Uganda, Zimbabwe. Also in attendance were business professionals, students and dignitaries.

40 Students competed for the Company of the Year Award by pitching their companies and products and engaging in a boardroom experience with a panel of judges composed of international and Ghanaian corporate professionals and influencers. The theme for this year's event was "Tech the Future by Storm."

All the competitors were executives of companies they formed during the course of the 2017/18 academic year as part of the Company Program®, Junior Achievement's flagship experiential entrepreneurship program for high school students. They competed in a national competition in their home countries and came out as overall winners, earning the right to represent their countries at the Africa competition.

Throughout the Africa COY competition, the students showcased their businesses acumen and demonstrated their teamwork, innovation, problem-solving, and leadership skills. The competition also allowed them to share their cross-cultural experiences and presented an invaluable opportunity for them to meet international business leaders.

The innovative ideas that were presented by the student teams confirmed that Africa truly has a strong cohort of budding entrepreneurs who are able to take action, for the benefit of their own future, their countries and the whole of Africa.
The Grand Prize was swept by Inventive Explorers from Nigeria, who developed a rechargeable, hand-held traffic light for sale to schools, local communities, and police stations. Taking second place was Nazware Innovations PTY from the Kingdom of Eswatini (formerly Swaziland), who created a digital voting app for schools to eliminate lines and other voting delays during election processes.

VERMO from Ghana and Nyunyiza from JA Kenya tied for third place. Vermo uses virtual reality to make learning more interesting and fun for students while Nyuniza uses data analytics to make farms more efficient, especially when using scarce resources like water.

The Keynote Speaker, Dr. Tetteh Nettey, encouraged the students to persevere in the midst of challenges and never give up. He mentioned that "failure is never a destination but a stepping stone to success."

Below is a full list of the 2018 COY Competition award winners:

JA Company Program Grand Prize - Inventive Explorers, Nigeria
JA Company Program 2nd Prize - Nazware Innovations PTY, Kingdom of Eswatini

JA Company Program 3rd Prize (tie) – VERMO, Ghana and Nyunyiza, Kenya

FedEx Access Award (recognizes the business the best exhibits the principles of global connectivity) - Inventive Explorers, Nigeria.

Citi Foundation Client Focus Award (awarded to the company that exhibits exceptional leadership in client satisfaction and a high level of commitment to quality customer service) - Nyunyiza, Kenya.

Delta Air Lines Social Impact Award (presented to the company that demonstrates corporate social responsibility and impact) - Atlantis Company Ltd, Mauritius.
Tomorrow Foundation Future Tech/Innovation Award (given to the company that best illustrates a clear understanding of the use of innovation to overcome obstacles) – VERMO, Ghana.

NASCON Allied Industries Ltd. Employability Award (recognizes the team that best built work-readiness skills during the competition) - Nazware Innovations PTY, Kingdom of Eswatini (Swaziland).

Rogers Capital Entrepreneurial Spirit Award (given to the company that best demonstrates uniqueness, creativity, risk-taking, business sense, and adaptability) - Nazware Innovations PTY, Kingdom of Eswatini and Nyunyiza, Kenya.

Christi Maherry CEO Rising Award (recognizes strong leadership among the companies) - Miss Sizolwethu Maphanga, CEO, Nazware Innovations PTY, Kingdom of Eswatini.

Coca-Cola Excellence in Teamwork Award (given to the company that shows the strongest teamwork and communication) - Inventive Explorers, Nigeria.
Kwese Excellence in Marketing Award (recognizes excellence in marketing, a clear understanding of marketing strategy, and hands-on implementation of that strategy) - Atlantis Company Ltd., Mauritius.
Source: JA Africa