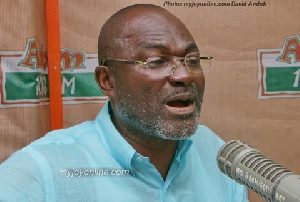 Controversial lawmaker for Assin Central Constituency, Kennedy Agyepong wants President Nana Addo Dankwa Akufo-Addo through his Attorney General to immediately expedite action on corrupt past officials under erstwhile National Democratic Congress (NDC) without further delay.
He proposes that immediate steps should be taken to haul them before court even before the arrival of the Independent Special Prosecutor (IPP) warning that further delay will lead to the shielding of concrete evidence against these past appointees.

While lauding the decision of government to implement the office of the IPP, he underscored the need for past corrupt officials to be prosecuted and jailed to serve as deterrent to the current appointees.

According to him, if government fails to prosecute and jail Dr Stephen Opuni, a former Chief Executive Officer (CEO) of Cocobod in particular, they should forget the 2020 elections because they will incur the wrath of Ghanaians.
"The more they delay, the more concrete evidence is shielded from the public. I think the processes to haul these past appointees before the court should begin immediately before the IPP is put in place in the future. I am aware a docket for the prosecution of 5 officials including Dr Opuni is ready by the CID", he revealed Net 2 TV's morning show "National Agenda"

According to him, the time is ripe for the current administration to pay back past officials who wreaked havoc to the Ghanaian economy including the likes of Dr Stephen Opuni in their own coin.

"Some of them I believe were just specially created to destroy Ghana. It is time we make him pay for his bad deeds", he emphasized.