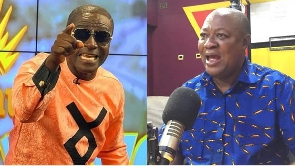 Host of Onua Maakye on Onua TV, Godsbrian Smart popularly known as Captain Smart, has called for the immediate arrest and prosecution of the Kumasi Mayor Samuel Pyne, following the outbreak of fire at the Kejetia Market in the Ashanti Regional capital, Kumasi.
Captain Smart alleged that over a thousand traders share a single electricity metre at the market, which he believes may be the root of the fire outbreak according to an onuaonline.com report.

"The politics of the metering system led to power cuts at the market and for weeks the market women were selling without power and nobody did anything to the KMA boss. How can one meter serve over 1,000 stores?" he asked.

Speaking on his Onua Maakye show on March 16, 2023, he asserted that the Electricity Company of Ghana wanted to provide free metres for the market and spread the utility arrears for the traders but the decision was rejected by Kumasi Metropolitan Assembly due to politics.

"If the Ghana National Fire Service (GNFS) comes to tell us the Kumasi Kejetia market fire was caused by an electrical fault, Sam Pyne must go to jail. He should spend the rest of his entire life in jail.

"The ECG wanted to provide free metres for the market but the KMA boss said they have a contractor that would provide it at a fee of GH₵500, meanwhile, one metre was serving over 1,000 stores," he added.
The Ghana National Fire Service confirmed the market fire after multiple news channels reported it on March 15, 2023.

GhanaWeb sources confirmed that the fire started at Kejetia Dubai, where car tyres are sold. The fire, according to reports started around 4:30 pm.

Personnel from the GNFS were quickly called to the scene to douse the inferno and rescue people from the parts of the building which has been gutted by the fire.

Personnel from the Ambulance Service and the Ghana Police Service were also at the scene to offer support to the victims of the inferno.

The injured were transported to the Komfo Anokye Teaching Hospital. Traders affected by the incident wailed while they tried to salvage as many items as they could.
Some affected traders who spoke to GhanaWeb's Ashanti Regional Correspondent claimed that the escalation of the fire can be attributed to the inability of fire officers to douse the fire on time.

Meanwhile, the market has been shut down temporarily for an assessment of the extent of damage caused to the facility due to the fire outbreak.

AM/SARA