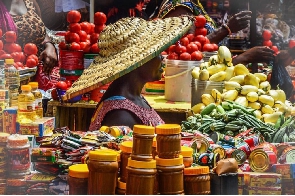 The Ghana Statistical Service (GSS) has said the country's Consumer Price Inflation for January 2023 was pegged at 53.6 percent.
The recent figures released by the Service showed an unexpected slowdown from 54.1 percent recorded in December 2022 with some analysts attributing the development to recent gains made by the cedi against the US dollar in the last three weeks.

This would be the first time in about 20 months the figure has slowed down.

CPI measures changes in the price of a fixed basket of goods and services purchased by households.

According to the GSS, the month-on-month inflation between December 2022 and January 2023 was 1.7 percent.

Food inflation for the month of January 2023 was 61.0 percent while Non-food inflation was 47.9 percent for the period after recording 59.7 percent and 47.9 percent respectively in December 2022.

Meanwhile, inflation for locally produced items in January 2023 was pegged at 50.0 percent while the figure for imported items was 62.5 percent.
Watch the latest edition of BizTech and Biz Headlines below:







MA/FNOQ