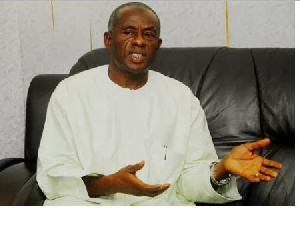 The Chair of the Electoral Commission (EC), Mrs Jeans Mensa, is destroying Ghana's electoral gains chalked over the years, Alhaji Collins Dauda, a former Minister of Works and Housing has said.
The former MP for Asutifi North said the decision to compile a new register for the 2020 elections is a bad one given the period Ghanaians find themselves in.

The EC has served notice that it will compile a new register for this year's elections in June 2020.

But the NDC is opposing the registration on the back of the increasing number of COVID-19 cases and the limited time available for compiling the electoral roll.

Mr Dauda told Kwabena Prah Jnr on the Ghana Yensom show on Accra 100.5FM on Wednesday, 27 May 2020 that if the EC cannot maintain the achievements of the electoral system, she should not damage them.
"The timing for the registration is not even tenable," he said.

"If you are using social-distancing to compile the register, as they have told us, it means you will need more time, but as we speak, we don't have much time on our hands."

"If they can't build on the successes, they shouldn't squander them," he added.