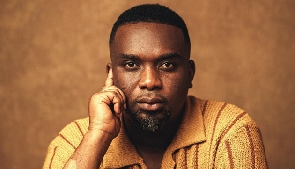 Popular Ghanaian gospel artiste, Joe Mettle, has faced criticism for a comment he made on social media.
The musician took to Twitter to call for prayers for the nation amid the ongoing challenges.

"Father Ghana needs you now more than ever. #PrayforGhana," he posted.

However, the tweet received backlash from many individuals on social media.

They criticized him for using what they considered the wrong hashtag and urged him to use the trending #OccupyJulorbiHouse hashtag instead.

Some also called on him to actively support the ongoing protest rather than just tweeting.
"It's good to keep quiet than to say unnecessary things. We've been praying since we gained independence, and God has done enough for us. Right now, we have to show God that we are using the knowledge and power He gave us for Him to be proud of us. It shouldn't be prayers always," one individual posted.

"2023, and you think prayers will solve the crisis we're in? If you have nothing to say, just keep quiet, and let's label you as a hypocrite instead," said another.

"Please, it's not about prayers. It's common sense that governs a nation, not prayers. Allow God to rest. Don't disturb Him with prayers when He has given you brains to think. What more should He do?" a third person posted.

The backlash against Joe Mettle adds to the criticism faced by other celebrities who have remained silent on the ongoing protest against corruption, economic mismanagement, and the rising cost of living in the country.

Various movements, including #fixthecountry and #OccupyJulorbiHouse, have been trending. Recently, the #OccupyJulorbiHouse movement embarked on a 3-day demonstration, with the first day marred by reports of brutality and illegal arrests by the Ghana police service.
Father Ghana needs you now more than ever.#PrayforGhana

— Joe mettle (@jmettle) September 22, 2023
ID/OGB
Ghana's leading digital news platform, GhanaWeb, in conjunction with the Korle-Bu Teaching Hospital, is embarking on an aggressive campaign which is geared towards ensuring that parliament passes comprehensive legislation to guide organ harvesting, organ donation, and organ transplantation in the country.
Click here to start the nomination process for the 2023 GhanaWeb Excellence Awards