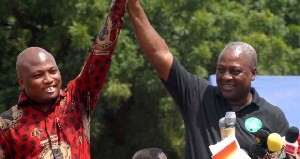 Former president John Dramani Mahama has applauded Bishop Dag Heward-Mills for his candor on pressing issues relative to the National Cathedral project.
Heward-Mills' August 2022 resignation letter as a member of the Board of Trustees of the National Cathedral contained a number of reasons why he was opting out.

Chief amongst them, issues of corporate governance breaches, government unilaterally acting on major decisions without recourse to the trustees and public uproar over accountability in respect of use of public funds for the project.

Mahama shared a GhanaWeb story on Facebook in which Heward-Mills lamented how after six years and US$30 million of funds pumped in, the site of the project was merely a 'massive pit.'

He captioned the post with three applause emojis.

Samuel Okudzeto Ablakwa, the Member of Parliament for North Tongu, who has waged a dogged campaign for accountability with respect to the project also saluted Heward-Mills for resigning amid the controversies.
"I must commend Bishop Dag Heward-Mills for his exceptional courage. He has shown that he has integrity and he believes in the principles and doctrines of Christianity which they teach us on a very regular basis."

He stressed that Heward-Mills was living by the teachings the clergy repeatedly admonished the congregation with, to always walk the straight path and eschew corruption and any semblance of it.

"So when I see a Bishop of his caliber exhibits those traits, it is very very commendable and this morning I must salute Bishop Dag Heward-Mills," he stressed on Accra-based Radio Gold.

SARA