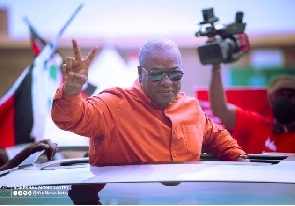 Aspiring Presidential Candidate of the National Democratic Congress (NOC), John Dramani Mahama, has announced an award scheme that will reward branches and constituencies of the party that work hard to increase the party's parliamentary and presidential votes in 2024.
Mr. Mahama who has been insisting during his tour of various constituencies that his 2024 campaign will be anchored by the branches, says the award scheme is intended to both set targets for the constituencies and encourage them to meet the targets.

"We are going to Institute a reward system for constituencies and branches. We'll give every constituency a target and sf you meet the target and exceed it, the branch and constituency will be rewarded", he announced to wild cheers from the executives.

John Mahama is currently on a three-day tour of the twenty-three constituencies in the central region, campaigning ahead of the NDC's May 13, 2023, presidential primaries.
According to him, the award scheme and branch level campaign will be supported with the needed campaign materials and logistics. He also cautioned constituency and regional executives against keeping campaign logistics and other resources, denying the branches where the real work of canvassing for votes take place.

President Mahama says, he will decentralise his 2024 campaign, much more than he did in 2020, working together with the branches and constituencies to engage, mobilise and canvass for the votes.

The former president has visited six other regions already, including the Volta, Bono East, Bono, Ahafo, Ashanti and Western regions.