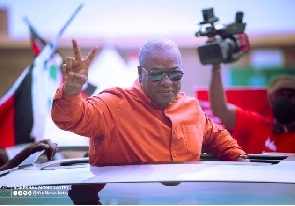 The opposition National Democratic Congress (NDC) has revealed it does not doubt the support and love the Ashanti Region has for former President John Dramani Mahama to become President again.
A Deputy General Secretary of the NDC Mustapha Foyo Gbande, says the party's intelligence suggests the love from Ashanti is massive and residents are willing to vote for their brother Mahama.

He notes that the blood that runs through the Northerner and the Ashanti are the same and it is impossible to separate him from residents of the Ashanti Region

"The NDC this year wants Ashanti Region to back it into power because His Excellency the former president has a trusted faithful relationship with Ashanti region.
"Naturally, we northerners we worship Ashanti because our blood is one, so if I see an Ashanti I call him uncle, Otumfuo is our father, can you compare the same with Eastern Region and Ashanti Region? Ethnic politics is part of politics because there is social mobilization agenda

"A property of the north belongs to an Ashanti easily like that. This year we are going to be in partnership with the Ashanti region to come to power. Every day and night you see us coming to the Ashanti Region. We want to strengthen our relationship and give them the assurance that when we come to power, we will still work with them."

"We are here to work and we know that Asanteman will bring us to power, the NPP should think people who deter corruption, crime, and cronyism will continue to vote for them when they have failed", he warned.