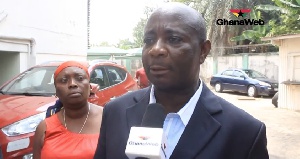 A presidential hopeful, Akwasi Addae Odike, says the governing New Patriotic Party (NPP) cannot be blamed entirely for the current hardship facing the country's economy.
According to the businessman cum politician, the main opposition National Democratic Congress (NDC), hugely contributed to the economy running into bankruptcy.

He accused former president John Mahama of "mismanaging" the during his administration prior to 2017, by borrowing recklessly.

"When we genuinely talk about Ghana's main problems, then it is John Mahama who initiated it because after Ghana went into HIPIC, the country was keen to stabilise the economy but Mahama and Atta Mills [administration] increased Ghana's debt from GH¢17 billion to GH¢122 billion.

"He [Mahama] went for loans and spent them on funding school projects across the country meanwhile, loans are not meant for building schools because it was never going to give any returns to the country – school buildings are instead built with taxes," the firebrand politician said on the Anopa Bofo morning show, Wednesday, April 19, 2023.
Without mincing words, the Founder and Leader of the yet-to-be-launched Unity Government Movement (UGM) added that, the decision by the Mahama-led administration to disburse loans to finance school project, is the genesis of Ghana's economic downturn.

Odike, therefore, questioned why the NDC leader is seeking to become president for the second time.

"I want to ask Mr. Mahama that upon all the state resources spent on him- from his days as an Assemblyman to when he became a Member of Parliament and then as Deputy Minister, Minister, Vice President and finally President- what has he been able to achieve or do with the experience garnered?"