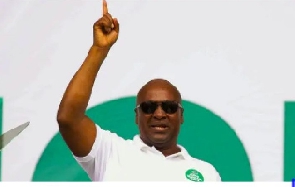 A local governance expert, Mr Amon Kotei has given a thumbs up to former president John Dramani Mahama's decision to establish a Governance Advisory Council to peer review the government's performance on corruption among others.
According to him, the former president's decision is apt as the likes of the Council of State have failed to live up to the expectations of many Ghanaians when it comes to advising the president.

He said the Council of State is made up of the friends of the president and they do nothing apart from drawing salaries from the consolidated fund.

He stressed that the Council of State is a toothless bulldog that cannot bite.

The local governance expert commended the former president's quest to establish a council to peer review his government performance in 2025 if he wins power while speaking on the mid-day news on Accra 100.5 FM on Monday, April 17, 2023

He was hopeful that Mahama's advisory council will just be an independent institution as Commission on Human Rights and Administrative Justice, Economic and Organized Crime Office and the Peace Council among others in the country.
"If the council is established, it will be publishing its reports and it cannot do so by engaging the services of any Civil Society Organization to do that on its behalf," he said.

He further hoped the council will institutionalize the publications of its findings to help in the fight against corruption in the country.

According to him, corruption is swallowing all the gains made in the development of the country.

The 2017 to 2022 Auditor-General's report has it that a whooping amount of GHS54 billion was lost to corruption in the country, he said

"And when the reports are published and the government is not pleased about it, it can choose to work with it or leave it", he noted.
Mr Mahama has promised he will establish a Governance Advisory Council as part of his vision to improve political governance, help curb corruption and ensure respect for human rights in the country if re-elected president in the 2024 polls.

Mr Mahama said membership of the proposed Governance Advisory Council will include representatives of civil society organisations, religious leaders, traditional leaders, and ordinary Ghanaians.

According to Mr Mahama, who is promising to wage a sustained war against corruption and poor governance if elected in 2024, the functions of the Council will include the annual release of a State of Governance in Ghana report.

"Every year, the Council will release a report on the state of human rights, corruption, and a report on our governance, which will serve as a guide for the government to know whether we are on the right track with regards to issues if governance, corruption, human rights, media and other freedoms including torture and crime" Mr Mahama said.

The establishment of the Governance Advisory Council as promised by Mr Mahama is to promote better governance and fight corruption.
In his term as president, Mr Mahama introduced a Code of Ethics for Ministers of State and government appointees.

The code of ethics reflected his government's vision to maintain a clean government; imbued with systems, clear procedures and guidelines for performance and delivery. He reminded ministers of state that while there are issues that would be accepted in the traditional cultural context, they are unacceptable under governance ethics and legal conduct.

"One of the strongest ways to prevent unacceptable conduct and abuse of office by public officials is to demarcate the ethical boundaries within which actions and inactions could be deemed to be acceptable or unacceptable", he noted.