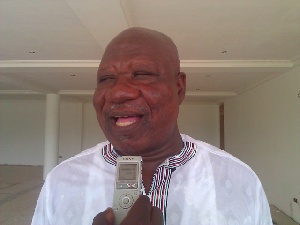 A member of the opposition New Patriotic Party (NPP) Hopeson Ardoye believes the UK High Commissioner in Ghana was massaging the truth when he denied the arrest of NDC's Allotey Joacobs in London.
On Sunday, reports suggested that Allotey Jacob had been arrested on suspected money laundering case but the British High Commissioner, Jon Benjamin debunked the rumors on social media stating that Mr. Jacobs had not been arrested by UK officials.

But speaking on 3FM's Sunrise Morning Show Monday, Hopeson Ardoye insisted that Allotey Jacobs who is the governing NDC's Central Regional Chairman was arrested yesterday when touched down at Heathrow Airport.

His conviction is derived from the account of someone he described as an eyewitness to the incident he suggested was credible.

"Why should I go with what he said whilst a friend on board gave me a detail eyewitness account on what happened on the flight?" he asked.

"This friend travelled on the same flight in business class sitting behind Allotey Jacobs.

"It's unusual that security officers come in when a plane lands because from my personal experience in traveling, everything has to be settled before passengers are asked to leave the plane.
"I am told the pilot did not switch off the seatbelts signal before the UK security personnel got on board the aircraft and questioned Allotey on how much money he was carrying with him.

"According to the eyewitness Allotey mentioned that the money he was carrying was for a government program and he also said one of them said Allotey said the same thing the last time he was apprehended

"They asked him to leave everything on the aircraft and was escorted alongside a lady who was sitting next to her.

"I asked him if he was able to take pictures but he said he wasn't able to do that because of the presence of the security it would have been odd to do that.

"Everybody is entitled to his or her opinion so if someone on board has told me what happened, why would I believe the British High Commissioner who was not onboard the flight".