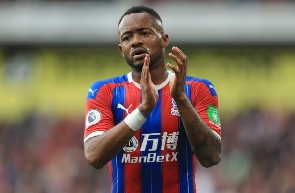 In a dominant Premier League season filled with countless tackles and hard-fought battles, one player emerged as the unrivaled target of opposition defenders.
Jordan Ayew, the dynamic forward from Crystal Palace, showcased his ability to torment defenders with his quick feet and elusive runs, earning him the distinction of being the most fouled player in the 2022/23 Premier League campaign.

Despite the relentless attention he attracted from opponents, Ayew's resilience and skill proved to be a force to be reckoned with, leaving a lasting impact on the league's most prestigious stage.

Jordan Ayew started the season very well under former Arsenal player Patrick Vieria, his work rate was appreciated by the gaffer. The Eagles sacked Patrick Vieira due to poor results. Roy Hodgson returned to the club he managed before and turned the club's poor performance around.
Jordan Ayew played a key role in the "new" Palace team scoring, helping the team with assists, and working hard on the pitch.

The 31-year-old made 38 appearances, scored four goals, and assisted three.