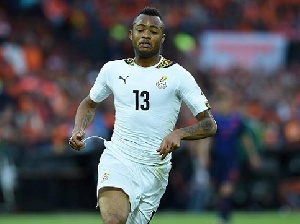 Ghana striker Jordan Ayew has joined a glamorous list of ever present in the English Premier League
The Swansea City attacker made the grid as part of 33 players to have featured in every single minute of the league so far.

The former Olympique Marseilles and Aston Villa attacker came second in the list of ever present players in the league, featuring in all the 720 minutes played so far.

The ever present Ghanaian import made the list alongside Joel Matip as the only two African stars to be part of the most used players in the top division.
Belgian centre back , Toby Alderweireld, topped the list of the 33 players to have enjoyed a 100 percent appearance in the league after eight rounds of fixtures.

Ayew's second place on the remains the highest minute tally clocked by any African star in the division so far, with many stars struggling with fitness and expulsions.

The Ghanaian import saw his goal bound shot poked home by Tammy Abraham in a 2-0 win for the Swans earlier today.