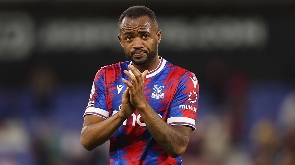 Crystal Palace forward, Jordan Ayew made a rapid recovery from a leg injury sustained during last week's game against Aston Villa.
The 32-year-old, who has been a stalwart for the club since his arrival in 2019, has an impressive record of rarely missing matches due to injury.

Ayew's untimely departure in the first half against Aston Villa, just 25 minutes into the match, left fans concerned. Unfortunately, that game ended in a 3-1 defeat for Crystal Palace, underlining his importance to the team.

However, Ayew had already left a mark on the season with his stellar performances and was rightfully recognised as Crystal Palace Player of the Month for August, earning accolades before the international break.
With the assurance from manager Roy Hodgson regarding his fitness, the Black Stars forward was included in the starting lineup for the sixth round of matches, signalling his swift return to action.

Crystal Palace supporters eagerly anticipate his contributions as the team continues its campaign with the former Olympic Marseille forward already registering a goal with three assists in all competitions.