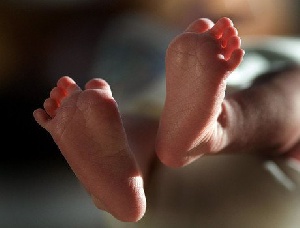 The journalist who first broke news about the sad death of a nine-week-old baby after his life support system was deliberately disconnected by a doctor says his life is now in danger.
Speaking on the Morning Xpress on XYZ 93.1 Thursday, Mireku Bernard, revealed he has since been receiving death threats from some faceless people.

"I was threatened. I had a call from the hospital that I should be careful about the story that I am doing… Yes, I was threatened," he told host of the programme, Neil-Armstrong Mortagbe.

Bernard, who reports for Kasoa-based Pink FM, also said the mother of the baby has also received similar threats which have compelled her to stop granting interviews on the incident.

Narrating the events, he said a nurse at the facility where the incident happened invited him over after a phone call and asked him to change his mobile phone number to stay safe.

According to the reporter, he was advised by the anonymous callers to stop granting further interviews to save his life, but he told the person "I am doing my work."
He is yet to lodge a formal complaint with the Ghana Police Service.



Background

The nine-week-old baby boy, Prosper, died at the St Gregory Hospital at Kasoa in the Central Region after his parents failed to pay for the cost of the oxygen their baby's life was dependent on.

According to Sefakor, the mother, the medical doctor on duty disconnected the oxygen machine because they could not pay GH¢533 they were billed with.
The Hospital authorities who have come out to debunk the report have failed to give more details on the issue, explaining they are investigating it.

The baby who was born on January 19, 2018, was taken to the hospital on March 5 and died three weeks later.

According to his mother, baby Prosper was not breathing well few weeks after he was born so he was put on the life support, as they waited to be transferred to the Korle Bu Teaching Hospital.

She said when they could not pay for the bill on time as promised, the yet-to-be-identified doctor cut the oxygen source to the baby, resulting in his death.