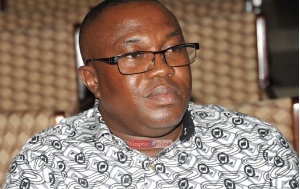 National Vice Chairman of the opposition National Democratic Congress (NDC), Mr. Samuel Ofosu Ampofo has expressed his displeasure about the line of questioning of some journalists at last Wednesday's presidential press encounter saying the questions were not thought-provoking' enough.
"I believe that when journalists are given the opportunity in a whole year to prepare and ask the president just one question, I expect the journalists in this country to do their homework very well to ask very thought-provoking questions". He told Abusua Fm in Kumasi.

On Wednesday 17th January 2018, President Nana Addo Dankwah Akufo-Addo had an encounter with the press which gave journalists the opportunity to ask questions which are of the interest to the general public.

The latest event was however criticized by both journalists and political analysts who claim there was no equal representation from the various media housed in the country.

The aftermath and claims by some individuals that the president should have considered bringing in the market women who may have done well have been shot down by Mr. Ampofo who said such a suggestion is "below the belt".

Commenting on Professor Ransford Gyampo's statement that the president must take the "Meet the Press" to the market women instead because they can ask better questions, Mr. Ampofo described it an indictment on journalists in the country.

"I think that the journalist should have asked thought-provoking questions". He suggested.
He further stressed that some of the questions other journalists asked were 'substandard'.

According to him, he was expecting the journalists present at the encounter to pin the president to state clearly his position on some issues of national interest like homosexuality and the continuous stay of Gitmo two.

Though senior journalist Mr. Kwesi Pratt asked the president on the issue of Gitmo two, Mr. Ampofo, on the other hand, argued that he (Nana Addo) wasn't pinned enough to make clear his stance on the whole matter.

"Are we accepting them or taking them away. He was just beating about the bush. He is the president of the Republic of Ghana. He is vested with all power, and his decisions are final". Mr. Ampofo stressed

According to Mr. Ampofo, the decision as to whether the Gitmo 2 will stay or not solely depends on the president hence Nana Addo could have made it clear for the people of Ghana.