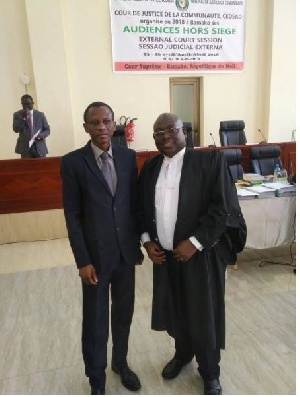 Indicted High Court Judge, Paul Dery has filed a fresh suit at the ECOWAS court over his suspension from the Judicial Service and pending removal from office as a High Court Judge.
The hearing of the case is set for this morning, April, 25, 2018.

The embattled High Court Judge and his Lawyer Nii Kpakpo are both in Mali to fight the case which indicted him.

Paul Dery was one of the twelve High Court justices indicted in the Anas' judicial scandal video in September 2015 that resulted in the Judicial Council suspending the judges involved.

They were captured on video allegedly receiving bribes from persons seeking justice to perverse judgment on their cases.
Justice Paul Uuter Dery even before the release of the footage, filed a suit to prevent Anas from showing the footage.

He has not stopped hitting the journalist with suits, and has filed several suits at the Supreme Court challenging the capacity of Anas' investigative company Tiger eye PI, among others.

He is yet to secure a victory from a court on his many suits.