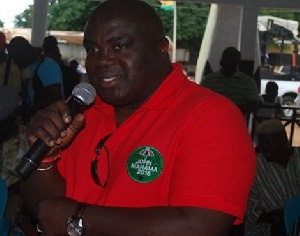 Tue, 15 Nov 2016 Source: Samuel Ablordeppey
Barely a week after the President, John Dramani Mahama visited the Ashanti region with his re election campaign tour, his Chief of Staff, Julius Debrah is on his way to the region to sustain the momentum and whip up enthusiasm among supporters of the National Democratic Congress (NDC).
The Chief of Staff will also use the occasion to win the minds and hearts of first time voters by explaining potions of the manifesto promises to students and those who just turned 18.

Mr. Julius Debrah would pay courtsy call on chiefs, address professionals and artisans, address durbars and take the changing lives transforming Ghana message to the door steps of the people.

He will spend five days in the region together with his entourage, which include Prof. Kwamena Ahwoi, madam Cecelia Johnson, Dep. Minister of communication Ato Sarpong, Presidential Staffers Emelia Arthur and Mawusi Dzirasah.

The rest are national and regional executives.
Mr. Debrah had visited the Upper West, Brong Ahafo, Volta and the Eastern regions pushing hard to ensure President John Dramani Mahama and the NDC is maintained after the December general elections.

The Ashanti region is considered a stronghold of the opposition New Patriotic Party (NPP), which the NDC is working hard to demystify that myth by targeting more than 1 million votes in that region.

Certainly, the Chief of Staff would criss cross the nooks and crannies of the region to drum home the need to retain President Mahama to continue with his development agenda of enhancing infrastructure and improving the socio economic well being of the people.

Knowing the critical nature of the elections, the ruling NDC is not leaving any stone unturned as it had segmented it's campaign teams go to and fro village to village, school to school, market to market etc , all in a bid to make a comprehensive victory a certainty.
Source: Samuel Ablordeppey