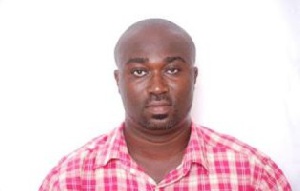 Thu, 25 Apr 2013 Source: Joy Online
The Managing Editor of Gye Nyame Concord newspaper, Alfred Ogbamey, has taken a swipe at Justice Kpegah over his suit at the Fast Track Court accusing Nana Akufo-Addo of impersonation.
Justice Francis Kpegah, a retired Supreme Court judge, is claiming that the New Patriotic Party (NPP) 2012 presidential candidate Nana Akufo-Addo is impersonating one W.A.D Akufo-Addo.

But Alfred Ogbamey described his action as a "nuisance".

Mr. Ogbamey believes even though there are positive lessons from Justice Kpegah's petition, it is clear the former Supreme Court Judge is just trying to worry Nana Addo and the NPP.

In Mr. Ogbamey view, the case has enlightened everyone that "you don't change your name without going through certain (legal) processes".

Ogbamey explained that even though he believes the NPP leader is a lawyer, he knows Nana Addo's full name at birth- William Addo Dankwa Akufo-Addo- is different from Nana Addo-Dankwa Akufo-Addo, a name he (Akufo-Addo) chose most likely to promote his African identity.
He said Nana Akufo-Addo also qualified as a lawyer under the name William Addo-Dankwa Akufo-Addo and not Nana Addo-Dankwa Akufo-Addo, but to the best of his knowledge there was no legal change of name.

Speaking on Kokrokoo on Peace FM Friday, Ogbamey explained further that in filing for the presidential candidature for the NPP, Nana Akufo-Addo did not use his official name, or name at birth, and this in his view presents legitimate problems.

He indicated that there are legal procedures to be followed when one wants to change his /her name and Justice Kpegah's case underscores the danger in neglecting such processes.

Ogbamey maintained that it is not incumbent on Justice Kpegah to produce the said W.A.D Akufo-Addo who Nana Akufo-Addo is alleged to be impersonating. He said all Justice Kpegah has to do is show that there was no legal name change from William Addo-Dankwa Akufo-Addo to Nana Addo-Dankwa Akufo-Addo.
Source: Joy Online