General News Sun, 30 Sep 2018
President Nana Akufo-Addo has informed the U.S. branch of University Hall (Katanga) Alumni of the Kwame Nkrumah University of Science and Technology (KNUST) that he has taken the necessary steps to address their concerns regarding the recent conversion of the all-male hall of residence to a mixed-gender one.
"I have taken action on Katanga," he told a gathering of Katanga alumni on Friday, 28 September 2018, as he addressed a town hall meeting of Ghanaians resident in the U.S., as part of his trip to the United States of America for the 73rd Session of the United Nations General Assembly.

"I have asked the Minister of Education to take the matter back to the University Council at KNUST for the Council to look at this matter again. So, we will hear from them as soon as possible," he told a gathering of jama-chanting Katanga alumni dressed in their traditional yellow and black vests.

Katanga Hall and Unity Hall (Conti), which were both all-male halls, were recently converted by management of the university with the explanation that it will allow for the accommodation of more female students into the six traditional halls of residence of the school.

This has resulted in a tussle between the management of KNUST on the one side; and the students and alumni of Katanga and Conti on the other.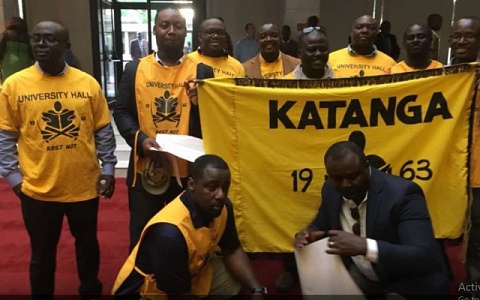 A series of protests have been held by the halls with several petitions filed with relevant institutions.


The halls have also dragged the management of the university to court.




Nana Akufo-Addo and Chancellor of the KNUST, Asantehene Otumfuo Osei Tutu II, are among the key individuals who have been petitioned on the matter.