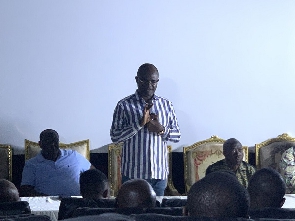 Flagbearer hopeful of the New Patriotic Party (NPP), Kennedy Agyapong has promised to make the Kwame University of Science and Technology (KNUST), a technologically driven hub for industrial and engineering innovation under his leadership as President of Ghana should he be given the nod by his party and the larger Ghanaian society.
Kennedy Agyapong made this revelation in a meeting with lecturers of KNUST in Kumasi on Monday, September 18, 2023.

He asserted that a key action he will undertake under his presidency will be to make KNUST focus on technology and engineering to elucidate the University's name and vision.

"Under my leadership as President of Ghana, KNUST will lead in everything engineering and technology. It will be the IT hub of Ghana just like Silicon Valley is to the US", he said.

"You have the Suame Magazine here but what has been the linkage between the University and the Magazine?… Under my leadership as President of Ghana, KNUST and Suame Magazine will manufacture and assemble automobiles right here in Kumasi".

"I will give our educated young ones reasons to stay in Ghana. We can do it and KNUST can lead in the charge of industrial and engineering innovation. We have all that it takes to make it work and I am the leader that has the willpower to materialize this dream", he added.
Kennedy Agyapong further appealed to the lecturers to support his bid to become the flagbearer of the NPP.

"I will build my Presidency on the three pillars you've already heard me talk about. I am coming in strong on Patriotism, Honesty, and Discipline (PHD) and developing Ghana based on the Agric, Technology, and Tourism sectors.

"We can do it and make it happen here. The Asian miracle is there for us to follow and that is what I will be using so I am asking all here to help me in this course"

"Write articles, tell your clientele about my vision, and encourage all to come on board to make Ghana work again. Ghana first it shall be for us all", Kennedy Agyapong told the lecturers.

Background
Kennedy Agyapong, a contender for the New Patriotic Party's flagbearer position, has firmly rebutted claims that he lacks the intellectual capacity and temperament required to serve as President.

Reaffirming his commitment to lead the NPP in the 2024 elections, he pointed out that those asserting that he is not presidential material are unaware of the substantial support he enjoys from a formidable group of university professors, lecturers, and professionals who are ready to collaborate with him.

He emphasized that these intellectuals, professors, lecturers, and professionals are resolutely convinced that "Kennedy Agyapong has a message" and is the one who can lead the NPP to "break the 8" in the upcoming elections.